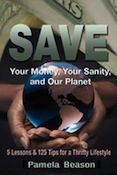 5 Lessons and 120 Tips for a Thrifty Lifestyle
As the daughter of two Kansas farm kids, I grew up naturally thrifty and loving the outdoor life, which is mostly free for my enjoyment.  I wrote this little ebook for those lucky individuals who grew up in wealthy families and simply don't know how to stop spending so much money. The book is really about figuring out what you truly value and targeting your spending accordingly to achieve a happy, less stressful lifestyle…Read more.

People always ask me about what you need to know and what it's like to be a private investigator, so I wrote it all down. This a great little guide for all those wannabes out there who want to know what the job is really like, and it's also a great reference for authors writing about PIs…Read more.
Ebook only
Kindle | Nook | Kobo | Apple Devices